This is an archived article and the information in the article may be outdated. Please look at the time stamp on the story to see when it was last updated.
FIRST MEASURABLE SNOW - SORT OF
The snowfall late Thursday into early Friday didn't amount to much, but it was enough to cause some very big headaches for the Friday AM commute.  Under 1" of snow fell across Indianapolis but slick roads were to blame for several crashes.
Snow fall totals reached 1" at Cicero, Alexandria and Yorktown north from Hamilton Co to Madison and Delaware counties while the official snow report for Indianapolis was only a trace.
To date no measurable snowfall for Indianapolis, this is the latest for the city in 15 years.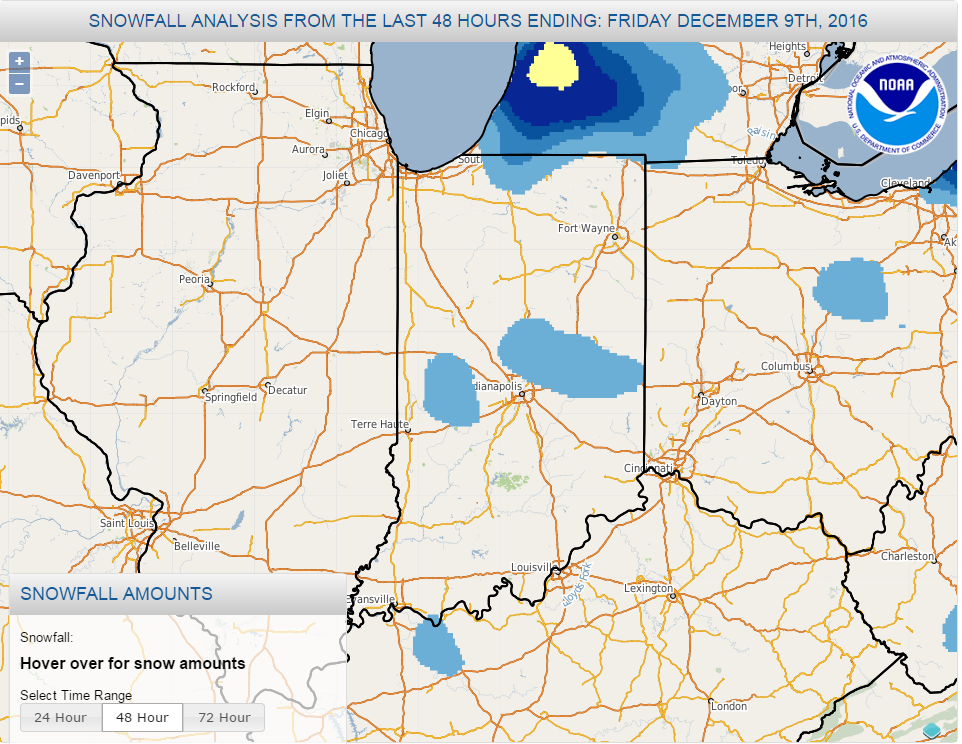 COLD NIGHT
Flurries will diminish and along with some breaks in the cloud cover, we expect to drop into the teens by early Saturday morning.  The coldest air of the season will begin to ease on Saturday afternoon.  High temperatures are expected to near the freezing mark by afternoon.
WINTRY WEEKEND COMING IN TWO PIECES
The first chance of snow for the weekend will arrive late Saturday evening and into early Sunday morning as snow break out ahead of a surge of 'warmer' air.  Accumulating snows are most likely to coat northern Indiana and possibly as far south and central Indiana before ending very early Sunday.
Winter storm watches have been posted as far south as northwest Indiana.  These will be updated and likely expand Saturday through more of northern Indiana.
I'm posting the latest accumulating snowfall potential through 7 a.m. Sunday morning off our latest RPM model.  A coating locally then with higher amounts heading north.
WEEKEND STORM SYSTEM PART 2
A secondary low pressure approaches later Sunday afternoon and evening.  YOU WILL be able to get out Sunday morning with little to now additional weather interference.
AS of Friday night, the latest storm track brings the secondary low pressure right through central Indiana, or places us on the warm side of the storm.  This track was identified THREE days ago and the consistency in the storm track further strengthens the weather outlook.
It is possible a wintry mix could develop with the onset of the storm system Sunday.  A coating of snow/sleet and even freezing rain is possible before temperatures rise and change the precipitation over to all liquid.  The northern periphery of the storm will produce snow, with totals exceeding 8" possible.  Below is the latest forecast Friday night of the radar composite for 8 PM Sunday.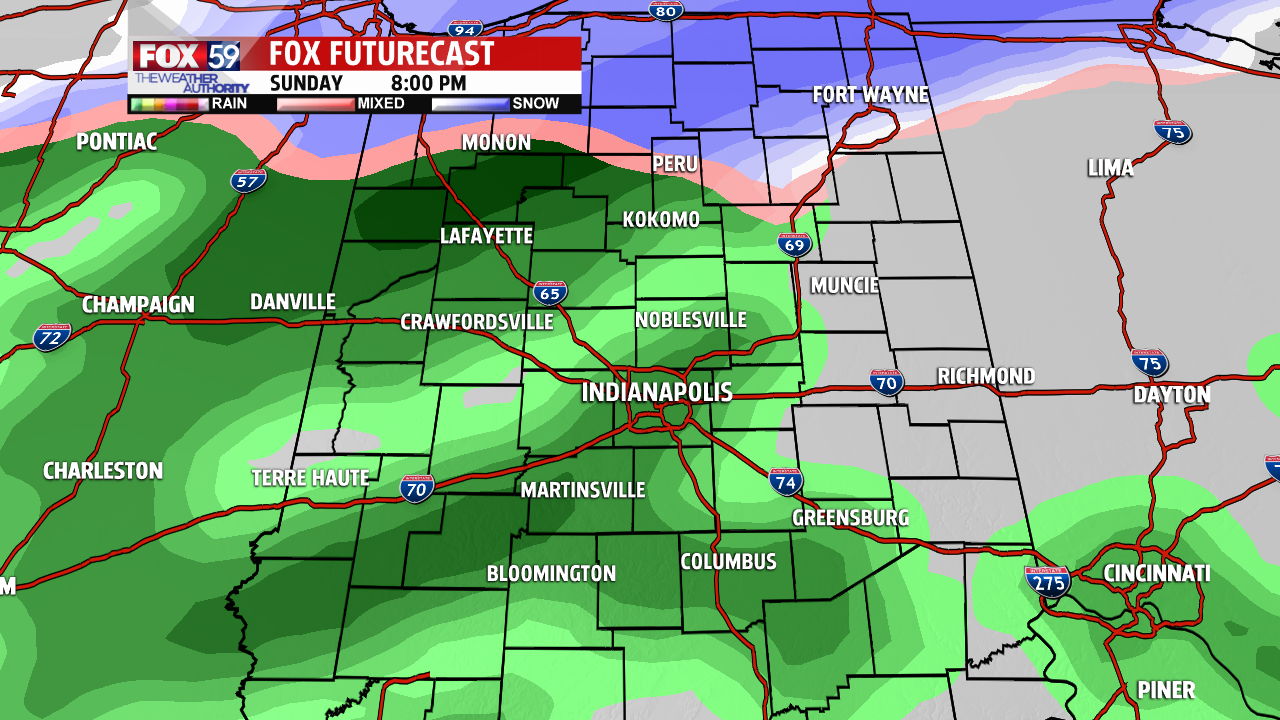 I'm posting below the latest National Weather Service's  SREF (multi-model ensemble) snowfall probability of 4"+ snowfall ending Monday morning.  Bases off the latest computer output, travel north this weekend will deteriorate Saturday night and aging Sunday evening.  Motorists, travelers bewared for changes.  Stay updated on the latest forecasts here at Fox59.com and on Fox59 on-air.  Storm tracks can and will change so stay up to date!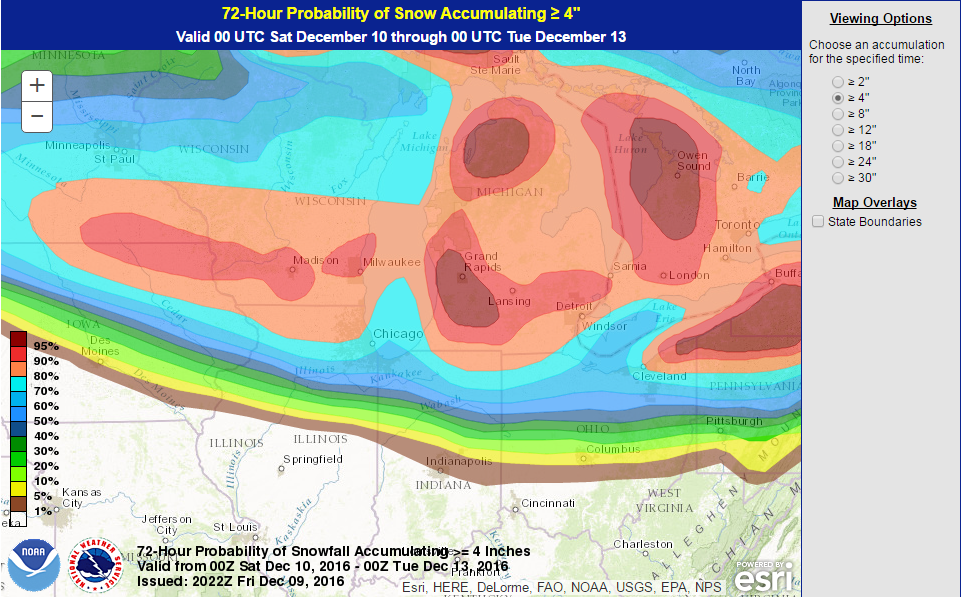 ARCTIC BLAST #2
A new surge of cold air is looking highly likely again later next week.  A massive Arctic high pressure could deliver single digit low temperatures by the middle of next week.  Combined with strong winds, bitter cold wind chills of -10° or colder are possible.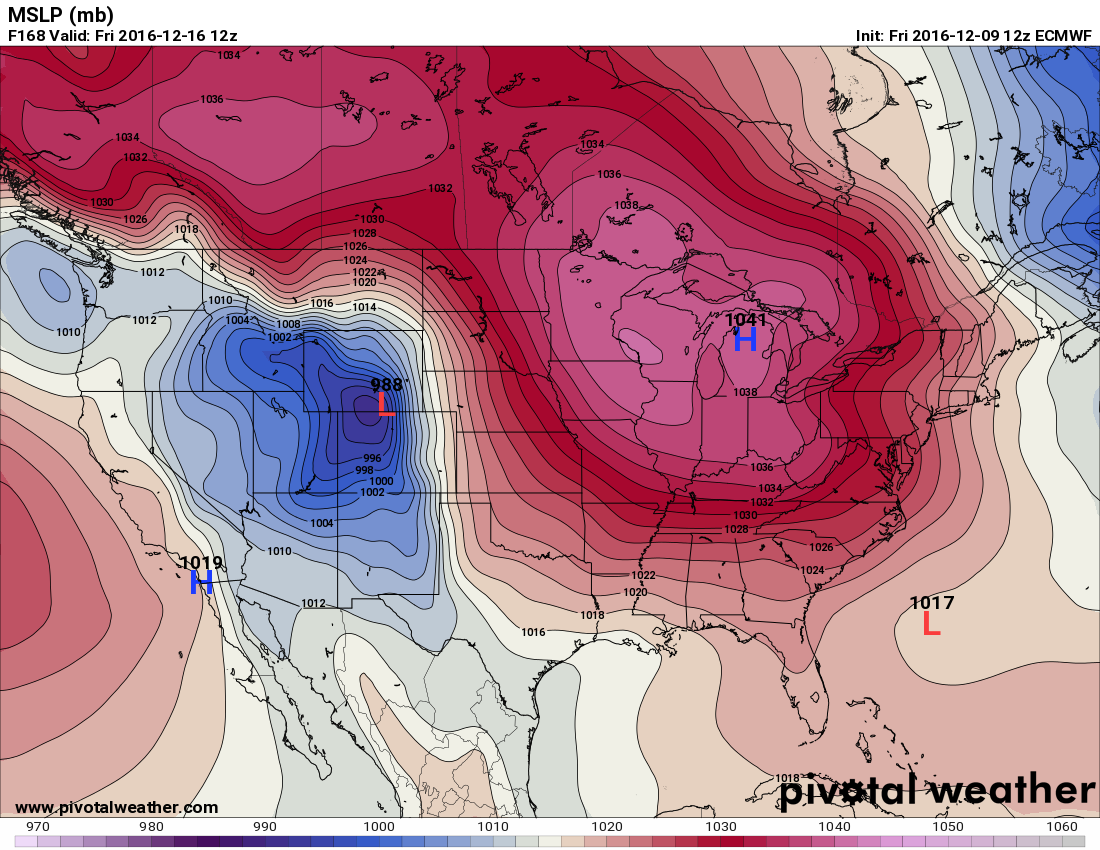 The arctic air will bring more snow along with it.  We will update throughout weekend and early next week.  Suddenly, Winter has taken hold.