This is an archived article and the information in the article may be outdated. Please look at the time stamp on the story to see when it was last updated.
(Dec. 17, 2014) – Clouds remain in place today with precipitation coming to an end this morning.  We expect to see a break in precipitation this afternoon and overnight but unsettled weather could return on Thursday afternoon with more snow at least being possible this Saturday.  The average high for today is 38 degrees, and we will likely see temperatures below the seasonal high through Sunday.
Today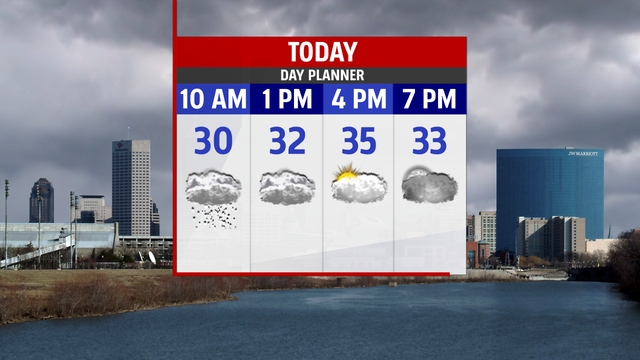 Right now we are in the heart of cloud season with only one out of every three days seeing partly cloudy or better conditions.  The rest of the days are on average overcast.  I think the average holds up well with us only forecasting one day through Sunday that may see partly cloudy skies.  Today won't be that day with cloudy skies remaining in place.  We may see some a brief peek of sunshine this afternoon but once again it won't be much.
The cloudy skies will make it tough for us to get to the 38° average for this time of the year today and we are forecasting highs in the middle 30s.  Winds will be brisk and gusty out of the west.  Wind chills will likely peak near 30 with winds between 7 – 15 mph.  Any precipitation should end by noon today.
We remain unsettled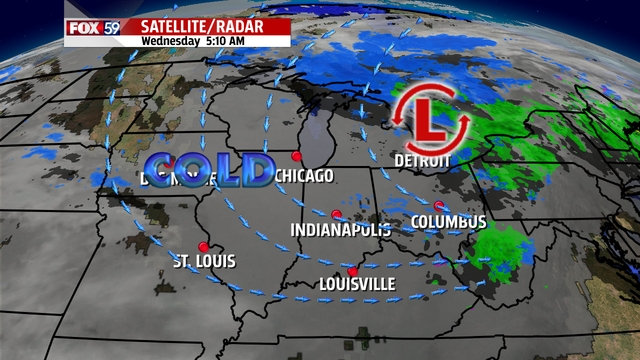 While no big accumulations are expected there will be the chance for snow on Thursday afternoon into very early Friday morning and once again on Saturday.  At this point there is a bit of uncertainty about the exact track due to high pressure developing off to our northwest.  The high will try to force all of our active weather down to our south with places in southern Indiana having the best chance to see a wintry mix including snow, sleet and freezing rain.
Heading into the weekend temperatures will stay just below the seasonal average with highs averaging in the mid-30s.  We will slowly warm heading into the weekend with highs today in the low 30s and highs by Sunday near 40.