This is an archived article and the information in the article may be outdated. Please look at the time stamp on the story to see when it was last updated.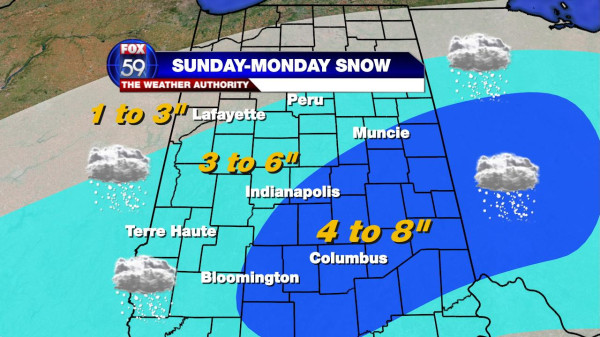 Another, and hopefully the last, round of major snow for Indiana is set to hit this weekend.  Here's a list of trusted websites and twitter accounts you may want to add and check out for the latest information as this winter storm rolls through. 
Also don't forget to follow the Fox59 Weather team on twitter.  Twitter is by far the best social media way to track what's going on as a storm passes.  Here's the team's twitter handles along with must follow agencies here in Indiana that will keep you in the know on twitter. 
@BrianWilkes59wx
@Fox59jimobrien
@Jketchmark
@Fox59smiley
@IndySnowForce
@IMPD_News
@MayorBallard
@DHSIndianapolis – This is for any traffic advisories
@TrafficWise posts accidents and closures from across the state
@INDOT_ECentral is the account for everything east of US 31; northeast of Shelbyville, Greensburg, Richmond.
@INDOTWestCentral is for west of US 31, north of I-70
@INDOTSoutheast is for east of I-65, south of Indianapolis; southeast of Shelbyville, Greensburg, Richmond.
More info on INDOT Social accounts http://www.in.gov/indot/3074.htm