This is an archived article and the information in the article may be outdated. Please look at the time stamp on the story to see when it was last updated.
COLD BLAST #1
It feels like it is 20 degrees colder Thursday evening as temperatures continue to drop into the lower 40s for the evening commute in the wake of the most recent passing cold front.  The wind chill has plunged to the middle 30s with 40 mph gusts at times.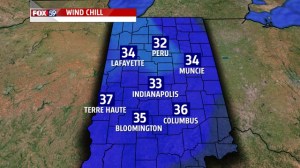 Drizzle and light rain will diminish but don't be to surprised if a stray flurry or some sleet passes by. Clearing develops after midnight along with lighter winds.
Skies brighten for Friday but continues cool for this time of the year..  High temperatures will return to the middle to upper 40s in the afternoon – still 10° or more below normal.
NEXT FRONT SATURDAY
The second cold front will arrive later Saturday bringing a wind shift and cooler air once again for Sunday.  Before the front passes a quick warm up into the lower 50s is likely and will possibly bring a few sprinkles of a passing shower especially later in the day.  This is #2 in the series of fronts.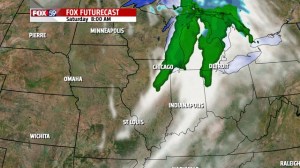 EARLY SEASON COLD BLAST HERE NEXT WEEK
Decided turn too much colder air in the days ahead. The temp tug-o-war ends on the cold side starting early next week. 3 jabs of cold over the next 7 days, the first arrived today. The next passes Saturday night and the final one (#3) blasts through the state starting Tuesday.
Temperatures will likely fall to late December as afternoon temperatures fail to reach 40° much of next week. Temps nearly 20° below normal!
A strong autumn storm will reach the southern tip of lake Michigan Tuesday morning, initially placing us in the warm side of the storm. Strong winds will blow and shift northwest ushering in the early season cold with falling temperatures.
Storm could bring health early season snow to parts of the Midwest in nearby Iowa, northern Illinois, Wisconsin and Michigan, We will keep you posted in the days ahead as details get more ironed out.