This is an archived article and the information in the article may be outdated. Please look at the time stamp on the story to see when it was last updated.
BIG COOL OFF
From 82° Wednesday to a high of 46 Friday – Central Indiana went from June to February in a matter of two days.  The cold air will flow into the state through Saturday.  Early morning temperatures will dip to near freezing, the coldest in a week.  Clouds are slowly breaking Friday night and under the clearest skies, frost is possible.  Wind may remain brisk enough, preventing any widespread frost from developing.  The wind chill will once again lower into the upper 20's around sunrise.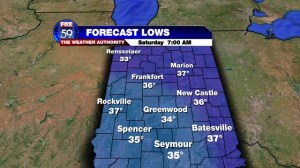 NICE WEEKEND
A temperature drop to near freezing is likely early Saturday but a beautiful weekend is coming our way.  It will open chilly but finish with a surge of warmer air Sunday.  The forecast high for Saturday will reach the middle 50's. Middle to upper 60's to lower 70's will be within reach Sunday in advance of  the next system.  A warm front passes early Sunday and could bring a few sprinkles early.  Skies will turn mostly sunny Sunday afternoon as temperatures surge.
RESURGENT WARMTH BRINGS MORE RAIN NEXT WEEK
The temperatures will quickly return above normal next week as another front stalls out in the Midwest.  Long range forecasts are hinting at a similar set up as the one that brought our rain last week.  A stalled front will be the focus for showers and thunderstorms next week.  Hints of a powerful Spring storm by Thursday could bring widespread severe weather back to the Midwest and Indiana – a scenario that will be monitored very closely.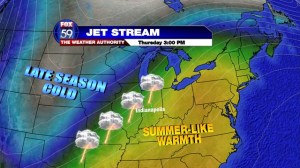 COLDER PATTERN RESUMES
The longer range pattern turns cold again as we move through the second half of April.  The U.S. long-range forecast model (GFS) has a much cooler solution for early next week and well beyond into the 2.5 week time period.  While details will be ironed out over the placement of next week's stalled front, colder air is likely to resume later next week and into the final week of April.  Temperatures are forecast to be off the normal by as much as 15° to 20°.  Stay tuned.