This is an archived article and the information in the article may be outdated. Please look at the time stamp on the story to see when it was last updated.
INDIANAPOLIS, Ind. --Good Sunday afternoon! It was another frigid day with temperatures this morning in the single digits as expected. A few places saw sub-zero temperatures. Indy had a low of two degrees and a high temperature of 19. Temperatures will hold steady tonight in the mid-teens with increasing clouds. Winds will also turn breezy. Wind chills will be between -2 and 5 degrees overnight. It's possible some of you see a few flurries or light snow overnight but it shouldn't be enough to cause any issues.
A series of warm and cold fronts will move through the region this week allowing for wild temperature swings. Temperatures will go up to the low 30s and possible above freezing for the first time in days! Winds will continue to be breezy with southerly gusts to 20 mph. Afternoon wind chills will be between 20 and 25 degrees.
Moisture will move in from the south and as temperatures hover in the low 30s late Monday night, precipitation may initially fall as freezing drizzle or freezing rain. This may be the case even with air temperatures slightly above freezing as the bridge and road surfaces are still well below freezing. I'm looking at a period from about 2 a.m. to about 4 a.m. Tuesday. This may change so check back frequently!  A warm front will lift north across Indiana into early Tuesday and moisture should be in the form of rain for many by daybreak Tuesday. The map below shows thick cloud cover forecast for Tuesday morning. As mentioned above, it wouldn't surprise me if there's some freezing drizzle or light freezing rain here.
Rain and possibly a couple of thunderstorms look likely on Tuesday with windy conditions. Winds may be sustained as high as 30 mph with higher gusts. Temperatures will rise to the low 50s Tuesday afternoon.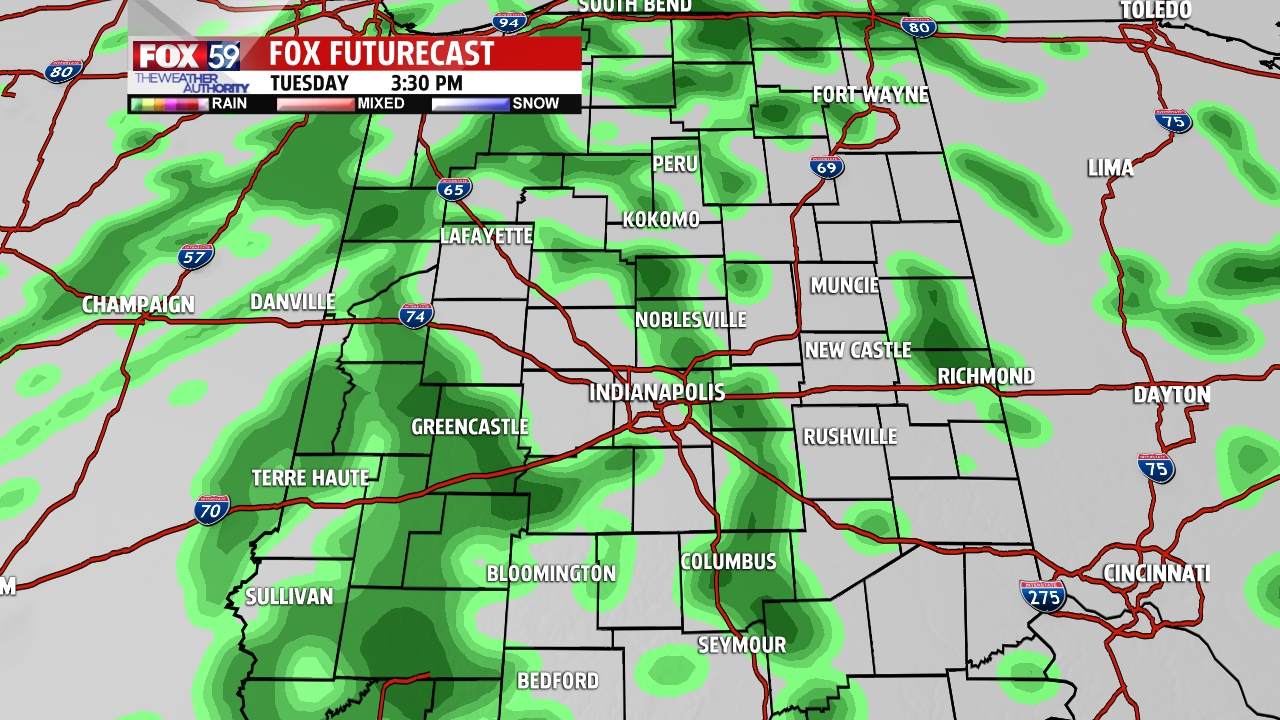 Weather models show that Wednesday may be warmer now and in the 50s with rain. Temperatures should rise in the evening as yet another warm front moves through. Highs will top out near 60 by Thursday with rain and possibly a few thunderstorms. I'm also watching precipitation next weekend. Long-range models continue to hint at a freezing rain 'event' Friday into Saturday. Check back for updates! --Danielle Dozier