This is an archived article and the information in the article may be outdated. Please look at the time stamp on the story to see when it was last updated.
RAIN OVERNIGHT
Moderate rainfall arrives in city Friday night to cap off one wild week of weather in Indianapolis.  We are expecting a 8 to 10 hour stretch of rainfall overnight with a healthy rain down by early Saturday.  The average rainfall off 7 various computer models for the city comes in at .70" – with a range of .38" to .93".  I still favor the "lighter" side of the rainfall given the speed of the storm.  Rain will have ended before sunrise Saturday and most of the weekend will be rain free.  Here is a breakout of rainfall across the area from our RPM model.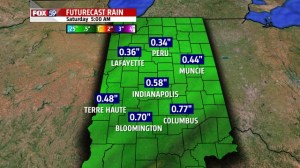 FLOOD CONCERNS
The combination of rain and snow melt will bring area creeks, streams and rivers to flood levels starting Saturday.  River flood warnings are posted through next week.  Locally poor drainage will be the culprit if any neighborhood flooding develops.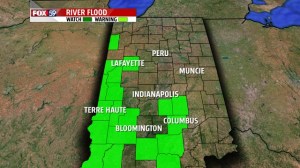 WILD WEEK OF WEATHER
A streak of 8 straight days below normal ended Friday with rain moving in.  A historic week of weather here, with 18" of snow (most to open a January) and 2nd highest snowfall total ever over a 5 day period.  Temperatures dipped to -15° with a wind-chill of -40° and capped off with Flood Warnings and the potential of heavy rainfall.  We will actually enjoy rather quiet weather the rest of the weekend before a new system arrives Monday with rain and possibly some snow late.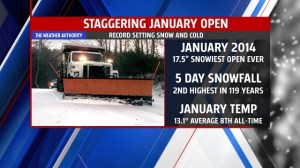 WAVY PATTERN
Temperature swings are in full effect lasting through next week as the bitter cold has retreated.  A western to east flow has temporarily developed – we call it a zonal flow and it brings more milder air but it will become "wavy" starting Monday – meaning sharp dips that bring daily temp swings.  Cold air is gathering and filling Canada again and forecast to send not one but 2 chunks of cold here next week.  The first arctic front arrives Tuesday with the threat of snow – some accumulation could accompany that front than a second system drops south Thursday bringing another surge of cold that will carry us into next weekend.  Neither of the 2 cold blasts will be a cold as the one that came through early in the week and it does not look like they will become long-lived.  Stay tuned, timing and intensity could change.