This is an archived article and the information in the article may be outdated. Please look at the time stamp on the story to see when it was last updated.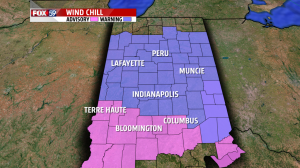 Dangerously cold air has arrived to the state for the start of the work week. Feels-like temperatures will range from -10 to -30° on Monday. Winds will be coming in from the northwest at 15 to 25 mph, gusting up to 30 mph during the day. Because of the cold temperatures and high winds expected, a WIND CHILL WARNING and WIND CHILL ADVISORY went into effect at noon Monday.
Wind chill warning: purple.
Wind chill advisory: pink.
The wind chill warning started Monday at 12 PM and it will continue until noon Wednesday. The counties included are:
Adams, Benton, Blackford, Boone, Carroll, Cass, Clinton, Decatur, Delaware, Fayette, Fountain, Franklin, Grant, Hamilton, Hancock, Hendricks, Henry, Howard, Jasper, Jay, Johnson, Madison, Marion, Miami, Montgomery, Morgan, Parke, Putnam, Randolph, Rush, Shelby, Tippecanoe, Tipton, Union, Vermillion, Wabash, Warren, Wayne, White
The wind chill advisory for our southwestern counties also begins at noon on Monday and it will continue until 1 PM Tuesday.  Wind chill values could come in around -20°F, especially Monday night and Tuesday morning. This includes:
Bartholomew, Brown, Daviess, Greene, Jackson, Jennings, Knox, Lawrence, Martin, Monroe, Sullivan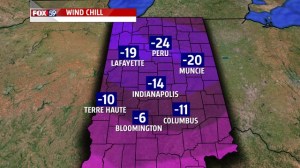 Here's a look at feels like temperatures at 11 AM:
Temperatures will fall to -15°F tonight in Indianapolis and when you add in the wind, feels-like temperatures could drop as low as -40°, especially in the northern part of the state.  This is why the wind chill warning and wind chill advisories have been issued because this cold air can be dangerous if you stay out in it too long.