This is an archived article and the information in the article may be outdated. Please look at the time stamp on the story to see when it was last updated.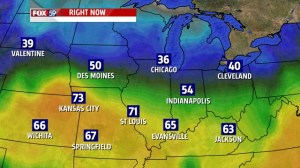 We started the weekend with ideal early spring time conditions in central Indiana.  Temperatures climbed into the mid 50s from I-70 and to the south and even the wind died down today.  But later on tonight, wind are expected to increase, temperatures will fall and a more winter-like environment moves in to finish off the weekend.  It's the tale of two season over the weekend again.
Clouds will slowly increase by Sunday but not soon enough to prevent temperatures from falling quickly into the mid 20s by sunrise.  Winds will also increase significantly overnight from the north at 15 to 20 mph after midnight.  These breezy conditions will continue through Sunday morning and afternoon, shifting more to the northeast throughout the day.  High pressure will be positioned to the north and a low pressure system will be south of Indiana.  That ends up creating that high wind field again across our state or as we call it, a tight pressure gradient.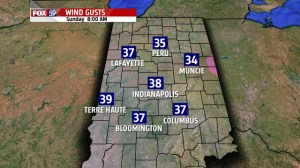 Wind gusts from 30-40 mph cannot be ruled out on Sunday.  Another big change for the Sunday forecast is the colder weather.  Temperatures are only expected to climb into the mid to low 30s across the state on Sunday afternoon.  This will be a nearly 20 degree drop from what we saw on Saturday.  Adding in the northeast wind will ensure that it feels even colder than that throughout the day.
Finally, we will have to keep our eye on the radar on Sunday, especially in southern Indiana.  A low pressure system is passing through the Gulf States on Sunday and that shield of moisture will be close enough to bring precipitation chances for the southern third of our area.  There is a small possibility to see a few snow flakes or a wintry mix Sunday afternoon here in the city but it's slim.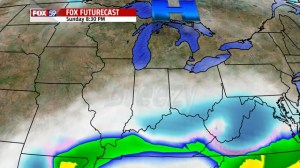 If you want to find a better chance for snow returns on radar or even some sleet, you need to keep your eyes on the very southern part of area.  This would stretch from Bloomfield to North Vernon and south.  These location could see some winter-like precipitation Sunday afternoon and evening with only minor amounts accumulating on elevated surfaces and grassy area.  This is a change from previous forecasts because just about every model that came in today forced the system further south and robbed the moisture.  And when you think about the high pressure system to the north, northeast wind driving in dry air  and more southern track of the storm, it makes sense that we wouldn't see much activity out of this system.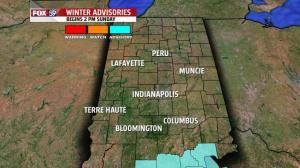 The southern part of the state is under a winter weather advisory as pictured to the left but that doesn't include any of our viewing counties.  And even that chance for precipitation ranges from 1-3″ of snow and sleet total.  It isn't expected to make a large impact on the roads but rather accumulate on elevated surfaces and grassy areas as well.