This is an archived article and the information in the article may be outdated. Please look at the time stamp on the story to see when it was last updated.
Southwest winds and more sunshine will make for a warmer day but also a breezy day at times! Gusts up to 30 mph could add a chill to the air, but at least our first 60s of the month and perhaps the warmest of the year so far arrives this afternoon!  Here is your planner: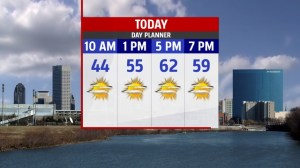 More of the same on the way tomorrow, in terms of temperatures but a few more clouds should be around!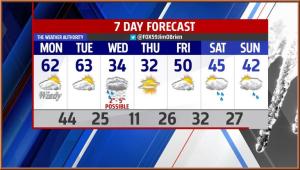 Snow looks likely on Wednesday morning with accumulation and slow roads too. This will be a fast-moving system but pack a punch putting down a  quick burst of snow in a short period of time!  Here is the current thinking…