This is an archived article and the information in the article may be outdated. Please look at the time stamp on the story to see when it was last updated.
5th WARMEST WINTER
The high reached 50° Friday - a full 15 degrees above normal and the 31st day since December 1 above normal.  The average temperatures is the warmest for a winter in 84 years.  80% of the days this month have been above normal but the warm winter is officially on the clock.
RAIN TO SNOW
An area of low pressure will race northeast Saturday night bringing more rain and latching on to a cold surge across the upper Midwest.  A change over to heavy snow for a time early Sunday could make for dangerous travel.  The latest track brings the axis of heavy snow from central Illinois to west/northwest Indiana where a winter storm watch has been issued.  The potential for 6" or more of snow will fall northwest  of the low pressure track.
I'm posting the NWS ensemble snowfall probability of 2" snow through Sunday morning.  Highest probability in northwest Indiana at this time.
A suite of computer models and snowfall techniques suggest an accumulating snow in Indianapolis but amounts are still to be refined.  The average off 5 machines places 2.2" of snow down for Indianapolis by Sunday evening as of Friday afternoon.  There is still quite a spread - ranging from .8" to 3.7".  The change over to snow will be earliest northwest which yields the higher snowfall forecast.  We bracket the hours of 3 am to 5 am for the change to snow in the city. More data tonight and Saturday will firm up the forecast of snow.  Timing of change over and storm track will be monitored.  Be sure to check back for updates.
PATTERN CHANGES
Cold weather signals have advertised the change to a much colder and wintry pattern for weeks.  Warm air surges into Alaska and in unison with a surge of warmth into Greenland buckles the jet stream and allows the polar branch of the jet stream in invade for the first time all winter.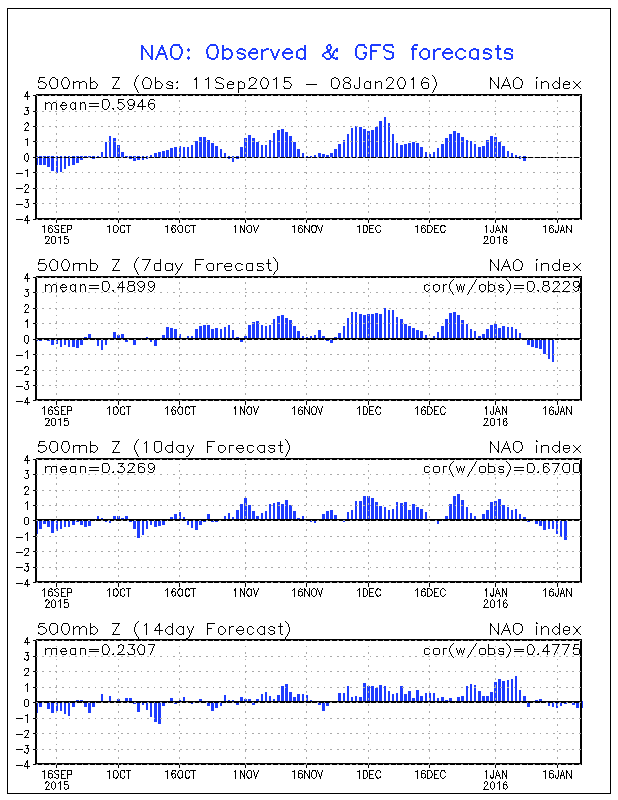 The colder spell looks the hold with several reinforcing cold/Arctic blasts through the next two weeks.  Bundle up - we may have single digit low temperatures next week and wind chill values are forecast below zero by Monday morning and again Wednesday.