This is an archived article and the information in the article may be outdated. Please look at the time stamp on the story to see when it was last updated.
Central Indiana has been upgraded to a WINTER STORM WARNING for Blackford, Carroll, Cass, Clinton, Delaware, Grant, Hamilton, Henry, Howard, Madison, Miami, Randolph, Tippecanoe, Tipton, Warren and White County.  This warning continues further north into the state.
The most noticeable difference in our map is the addition of a WINTER WEATHER ADVISORY for the metro and locations to the south.  This includes Bartholomew, Boone, Brown, Clay, Decatur, Fountain, Hancock, Hendricks, Jackson, Jennings, Johnson, Marion, Monroe, Montgomery, Morgan, Owen, Parke, Putnam, Rush, Shelby, Vermillion and Vigo County.
Both the advisory and the warning start at 7 AM Tuesday and will continue until 7 AM Wednesday.  Heavy snow and sleet will create slick driving conditions in the advisory area (blue).  In this zone, 2-5″ of snow will be possible.  In the warning area (red), up to 6″ of snow will be possible Tuesday afternoon through Wednesday morning.  Roads will become slick if not dangerous due to the snow covering the surface.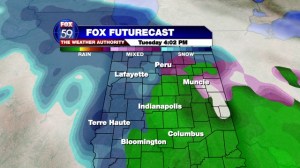 Our best chance for heavy snowfall begins after 2 PM on Tuesday.  That's when our morning and early afternoon rain showers will change to snow showers from west to east.  By 4 PM, the transitions should be nearing the metro.  Snowfall is likely to continue Tuesday night through Wednesday morning.
Snowfall accumulations will range across the state.  The city will pick up 3-5″ here in the metro.  Lower amounts of 1-3″ will be possible south of the metro.  But in the northern part of the state, 6-9″ of snow will be possible.
Here is the official Fox 59 Weather Authority snowfall forecast. This heavy snow will fall starting Tuesday afternoon and continue through Wednesday morning.