This is an archived article and the information in the article may be outdated. Please look at the time stamp on the story to see when it was last updated.
UNUSUALLY COLD THIS LATE IN MAY
Finally warming up, but still off the normal for this time of year. Early Monday morning low temperatures as cold as 34° in New Castle, 35° in Martinsville, Marion and 36° in Spencer and Tipton.
The low of 38° Sunday morning in the city was only the 3rd time in past 30 years a morning this late in the season was so chilly!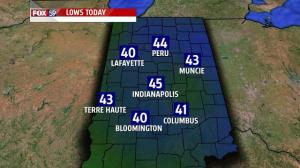 CHILL EASES
Temps Monday warmed to 69° – warmest since last Tuesday (80°) but still off the normal of 74°. This is the 7th straight day below normal and still well below the normal high of 74°.  Low temperatures early Tuesday will be much more milder!  A warm front on the way! We are forecasting it to pass the city in the pre-dawn hours Tuesday. Warm air floods the state the next two days, 80s are back Tuesday and Wednesday with much higher humidity.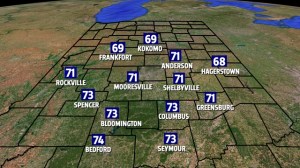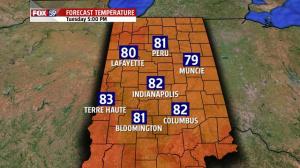 STORM CHANCES ON THE RISE
The passing warm front late Monday into Tuesday will offer up the first of potentially three chances for storms through late Wednesday night.  Later Monday night as the warm front nears – scattered showers and a few t-storms could develop after sunset and impact portions of north central and eastern Indiana overnight.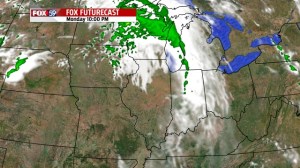 Scattered storms will be possible Tuesday but current thinking is that it will remain over the northern third of the state for much of the day.  Storms in clusters could migrate south Tuesday afternoon or evening then a new complex of storms could erupt overnight Tuesday into Wednesday morning.
An approaching cold front Wednesday will settle south by late day once again bringing the threat for more storms.  A transition from the warm, humid air is under way Wednesday evening so the outlook for storms looks high.  Storms to settle south Wednesday night late ending the rain threat as we head toward the long holiday weekend.  Any storm starting Tuesday night and through Wednesday night has the potential to be strong/gusty or even severe.  The Storm Prediction Center has out looked most of central Indiana for the potential of severe storms. The primary threat would be damaging wind gusts followed by hail.  Stay tuned later computer runs will better time the storms and their locations.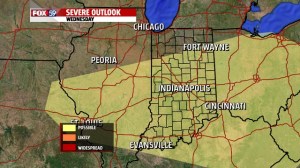 JUMPING AHEAD
We continue to get the "green flag" weather wise for terrific weather all holiday weekend long.  This computer forecast from the European forecast model plops a high pressure over southern Lake Michigan Saturday morning – meaning plenty of sunshine, mild temps and low humidity.
High temperatures race day are currently forecast in the upper 70s – much warmer than last year's cool high of 68° – the coolest race day in 10 years and 12th coolest overall.