At our home we have bright colors, deep cushioned chairs, marble fireplaces, a Jacuzzi, and a putting green. We'd be happy to share.
Located in Indianapolis, the Garden Plaza of Westside is part of a senior living community that offers both Assisted Living and Independent Living. The community itself offers the warmth of a home environment and a luxurious building reminiscent of a resort. Our residents enjoy elegant restaurant-style dining, a beauty salon, exercise facilities, and a stunning campus.
It may be difficult to find time to spend in our billiards room or salon because of our resident-driven activity schedule that is constantly offering social events, live entertainment, wellness activities, classes and outings. Whether you want to join in on a trip to a local museum, enjoy a visit from the Indy 500 Queen and official pace car, or get a little messy in a pottery class, there is plenty going on in our community.
—————————————————————————————————————————–
TOUR:
Join us for a tour and information session on any of the following days starting at 1 p.m. A Happy Hour will follow at 2 p.m.
June 16
August 12
September 9
October 14
November 11
—————————————————————————————————————————–
CONTACT:
8616 West Tenth Street
Indianapolis, IN 46234
(317) 271-1020‎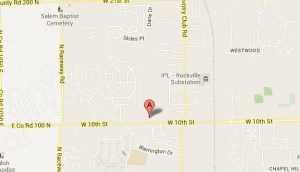 —————————————————————————————————————————–
CONNECT: